City, Date – In a beautiful display of sibling love and compassion, actress Meghali Juvekar was treated to a heartwarming surprise on the occasion of Rakshabandhan. Amid her battle with illness, Meghali's spirits were uplifted when her brother Hrishi made an unexpected visit to Mumbai from their hometown. This touching surprise not only brought a radiant smile to Meghali's face but also underscored the profound bond shared between siblings.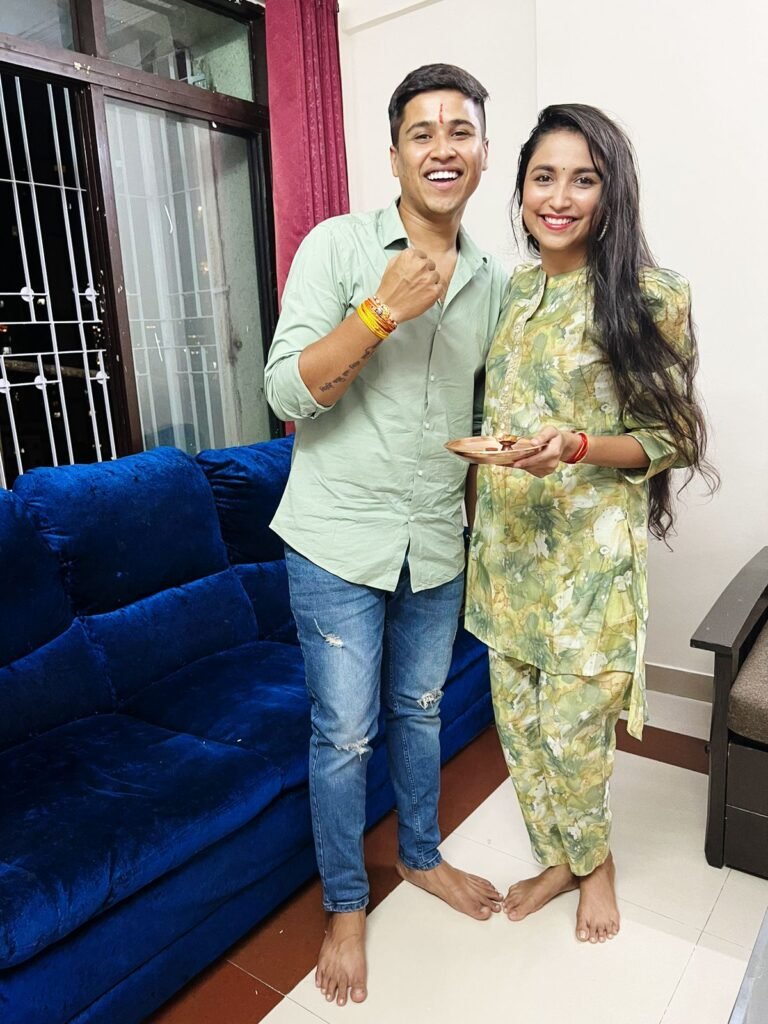 Despite facing health challenges, Meghali was greeted with an unexpected delight as her brother Hrishi arrived in Mumbai to celebrate Rakshabandhan together. Across the distance and obstacles, Hrishi's visit was a poignant testament to his unwavering affection and concern for his sister's well-being.
The surprise took on an extra layer of warmth as Hrishi arrived bearing homemade sweets and a heartfelt gift for Meghali. These gestures not only embodied the sentiment of Rakshabandhan but also showcased the thoughtfulness of a brother who went above and beyond to bring joy and comfort to his sister's life.
Expressing her gratitude for the surprise and the presence of her brother, Meghali shared that her Rakshabandhan celebration was made truly special by his unexpected visit. She mentioned that even in her health condition, her brother's presence added immeasurable happiness and positivity to her life.
In the spirit of the occasion, Meghali treated her brother to a memorable dinner. The celebratory meal was an acknowledgment of Hrishi's efforts to be a pillar of support during her time of need. The evening resonated with laughter, heartfelt conversations, and cherished memories that are emblematic of the unique bond shared between siblings.
Looking back on the day, Meghali Juvekar revealed that she and her brother offered prayers for each other's well-being and safety. Their shared prayers resonated with the core essence of Rakshabandhan – a festival that venerates the enduring connection between brothers and sisters.
The heartwarming surprise, the exchange of meaningful gifts, and the shared moments of joy and prayer combined to form a Rakshabandhan celebration that Meghali and Hrishi will carry in their hearts for years to come. Their exceptional bond serves as a poignant reminder of the love, support, and camaraderie that siblings bring into each other's lives, particularly during times of adversity.