WASHINGTON/NEW DELHI – The US House of Representatives has bestowed a prestigious honor upon Jain Acharya Dr. Lokesh Muni, the founder of Ahimsa Vishwa Bharti and World Peace Center, for his remarkable efforts in promoting non-violence, peace, and harmony worldwide. Congressman Jefferson Van Drew presented the official seal and Congressional Proclamation to the revered Indian monk during a ceremony held in Washington.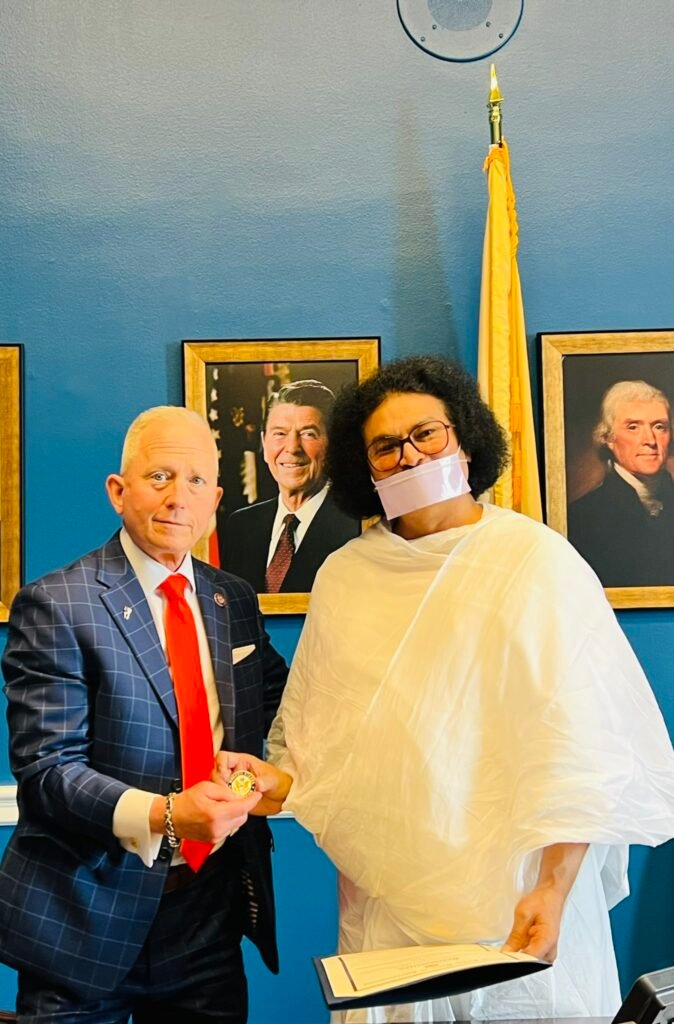 In a historic moment, the US House of Representatives recognized and awarded an official seal along with a citation to an Indian spiritual leader for the first time.
Congressman Jefferson Van Drew expressed his admiration for Acharya Lokesh Muniji's dedication and accomplishments in fostering peace and harmony. "Acharya Dr. Lokesh Muniji is an inspiration to us all. His energy and achievements provide us with hope and a glimpse into the future," he stated.
Acharya Dr. Lokesh Muni, expressing his gratitude, emphasized that this honor is not just his own but belongs to the entire ancient Indian culture. "It is a testament to the humanistic philosophy of Lord Mahavir. India and America together can contribute significantly to establishing peace and harmony in the world," he added.
The distinguished monk also shared his hopes that his ongoing peace harmony tour will further enhance tranquility and amicability in society and the world.
The recognition bestowed upon Acharya Lokesh Muniji by the US House of Representatives is a matter of great pride for the Jain community and the citizens of the United States. Congressman Jefferson Van Drew expressed his belief that the monk's tour will bring about an increase in peace and harmony globally.
The event concluded with Acharya Lokesh Muniji expressing his gratitude once again and emphasizing the significance of promoting peace and harmony as a collective responsibility of humanity.
This recognition serves as a testament to Acharya Lokesh Muniji's tireless efforts in spreading the message of non-violence and creating a more harmonious world, while also strengthening the cultural ties between India and the United States.